In addition to the recent Canadian poll indicating that 8 out of 10 Canadians have no desire to join a union, Harris and Gallup just completed polls at the end of August indicating the American public thinks no higher of unions than their northern neighbors.
Gallup has been polling Americans on overall "approval" of unions since 1936, and every year for the last 10 years.  In 2009, the union "approval rating" dipped for the first time below 50% to 48%.  Since then, American attitudes toward unions have remained steady, with only a slight rise to 52% this year.
The major change for this year is the widening gap in partisan opinion of unions. The efforts of several states to curb the bugetary impact of public union's monopoly bargaining position seems to have driven the further politicization of sentiment about unions.  Democratic approval has climbed back up to 78%, near its high of 80% in 2007, while Republican approval has fallen to its lowest point in decades, at 26%.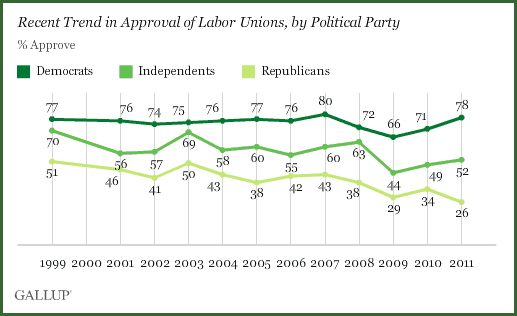 Harris poll findings include:
Over seven in ten believe that unions are too involved in politics (72%), are more concerned with fighting change than with trying to bring about change (71%) and stifle individual initiative (63%),
People in union households are somewhat less critical though majorities of union households still feel unions are too involved in politics (60%) and are more concerned about fighting change (63%). Further, a significant number of union families agree that unions stifle individual initiative (46%).
A majority of all adults (59%) disagree that unions work to get legislation that helps all working people, whether they are union members or not. Conversely, union members are more supportive of unions' efforts relating to legislation. Over half (55%) think unions work to get legislation that helps all working people.
By 62% to 38% a majority of Americans disagree that unions give members their money's worth for the dues they pay. Only 47% of union members agree with this sentiment.