Get ready to see more robots in your grocery stores.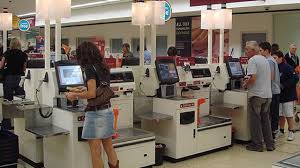 We've already seen Walmart jump on the advent of the self-checkout kiosk. This year, they're taking things even further by adding machines that scan shelves for out-of-stock products at 300 stores; they're deploying autonomous floor scrubbers in 1,500 stores; and "the number of conveyer belts that automatically scan and sort products as they come off trucks will more than double, to 1,200." You can expect similar changes at other grocery store chains like Stop & Shop and Giant Food Stores.
In traditional offices, we'll continue to see AI step into the roll of HR and marketing through the use of predictive analysis. The main issue that employers need to be on top of here is the biases necessary in order to provide "people analytics." There's a great article in HR Examiner on just this. Click here to dive in.
As technology continues to make its way into roles traditionally filled by people, the U.S. Government Accountability Office is calling on the Department of Labor to develop ways to better track workforce effects of technologies. As it stands, "workforce data doesn't identify the causes of employment shifts, making it difficult to track technology's effects."