by Phil Wilson
The team at LRI RightNow just released our 2020 annual elections review. There are lots of interesting tidbits in this year's report. Here are a few of the highlights that intrigued me.
Unions racked up 31,610 newly organized workers in 2020 in just over 800 NLRB elections. The pandemic obviously dramatically impacted petition and election activity – total elections were down 31% over 2019. What struck me was that in a year where a ton of elections occurred by mail ballot the union win-rate in RC elections dropped nearly 5%. Here is an excerpt from the report: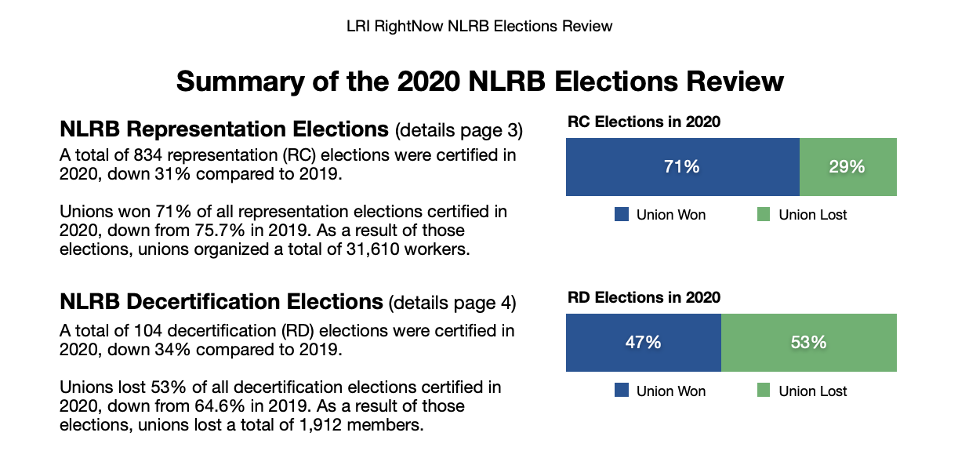 The 5 most active unions this year don't really have any surprises. Here's that chart: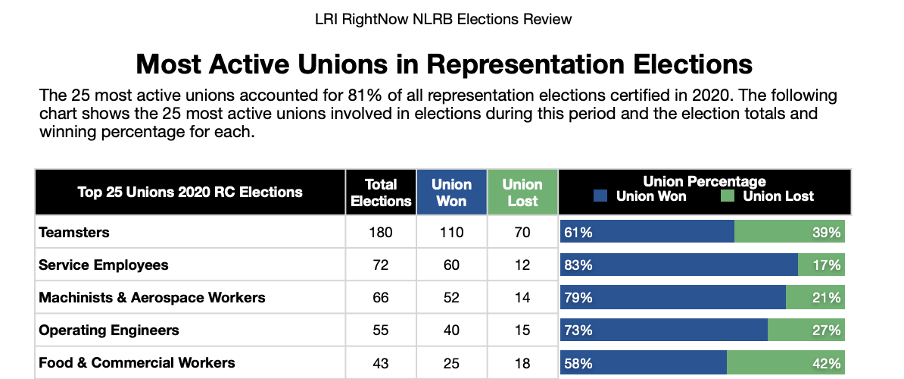 What did surprise me was a few of the unions that round out the top 10, including one union that went 17 for 17 in elections in 2020. Curious who that was? You'll have to get the report to find out 
One of the centerpieces of election reforms during the Obama administration was making it easy for unions to organize micro-units. A micro-unit is where a union can show majority support in a small work group, carved out of a larger group of workers. As soon as the NLRB has a Democrat majority – most likely this fall – it is probable that micro-unit elections will be back. And that bodes well for unions, as you can see from this chart in the elections review: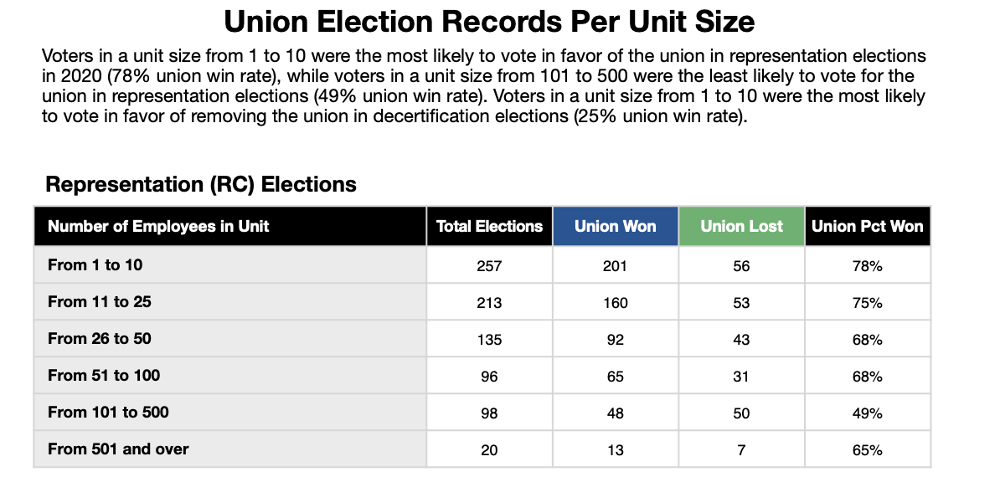 Last year unions won almost 80% of the 257 elections conducted in these small units of 10 or fewer eligible voters. Even though these elections were in small units, they were not micro-units. That's because the NLRB reversed the prior administration's rule and said elections must occur in units where employees share a community of interest.
You can anticipate that a Democrat-majority Board will flip the standard back to the "overwhelming community of interest" standard, where the union gets to pick any group of workers it wants, and that unit can only be expanded if the company can prove that the micro-unit shares overwhelming similarities to other excluded workers. That means you will see a lot more elections in the smaller units under 25 employees, where unions are the most successful in converting petitions to election victories.
Those are just a few of the things I thought were standouts in this year's review. You can also see how unions fared in your industry, in your region, and using the interactive maps feature you can even see how they fared anywhere near one of your locations. It's a tremendous resource. Pick yours up today!
Innovative Organizing
Unions have kicked off 2021 with a number of interesting innovations. One trend we've been following is the launch of some off the beaten path organizing vehicles. The one that stands out the most to me is a site called Unit Workers that attempts to turn traditional NLRB organizing into an app-based experience. The basic idea is that a group of workers sign up on the website to organize a group of peers. They can then use the site to survey coworkers, get them to sign authorization cards, and get the organizing process working. In the background there is legal and professional organizing support, but the "union" doing the organizing is an independent one-site union.
Once a group of workers organizes under the model, they pay the company (interestingly they are NOT considering themselves a union) 0.8% of their monthly pay in fees to the website while they negotiate their labor agreement. In exchange they receive legal and strategy support provided from the app company. This one is fascinating, and they've already filed at least one NLRB petition. That petition ended up being withdrawn, but the workers in that case received legal representation from across the country (the petition was filed in Seattle, but the attorney handling the case on behalf of the "union" was in Boston). We'll see whether this model gains additional traction, but it is fascinating and shows a lot of innovative spirit.
A couple of others also caught my eye this month. Social media "influencers" are now eligible for union representation thanks to SAG-AFTRA. Now your favorite TikTok, Instagram or Twitch star might also be carrying a union card. In another innovative move SAG-AFTRA created an Influencer Agreement which gives anyone paid to advertise on their social media platform the option to join SAG-AFTRA and gain access to health and pension benefits like those offered to actors and other entertainment business workers.
And if TikTok stars unionizing isn't crazy enough for you, how about organizing in Blaseball? That's not a typo, and I had to look it up, so if you already know what Blaseball is you're way cooler than me. For those who don't know, it's a splort… well, just go here and see if you can figure out what it is. The reason this is in our humble labor relations newsletter is that the Wobblies creatively jumped onto some organizing activity inside the Blaseball universe. As best I can tell in Blaseball you often try to get a bunch of other people to get together with you to sabotage the other team – kind of like the Gamestop runup (you know, #stonks). The Wobblies are trying to use this as a jumping off point to teach players to organize here in the real world. I'm pretty sure this is one of the signs of the apocalypse, but I do think it's also evidence of how unions are more and more a part of the zeitgeist of the 2020's.
Will any of these developments lead to a lot of new organizing? I don't think so. But I think they are really important to watch. Unions have talked about needing to innovate for decades. The talk is turning to walk.